Featured Products & Services
Claim space for your brand in every recipient's office or home. With branded gifts and giveaway items, a simple mug or hat can make a big, lasting impression.

Collateral Items

We can design and create effective, stunning collateral pieces that will reach your target audience with impact.

Mailings

Let Midtown take away the hassles of mailing. We can handle all your mailing needs from design, to mailing lists to obtaining the deeply discounted postage rates. We can address and mail for less than your cost of stamps.
You can trust us to do your job in a rush.
The printing business is all about making impressions. Midtown Printing and Graphics, in Lubbock, TX makes them every day...on paper. But the true value of printing is the impression it makes on your customers. At Midtown, we understand the power of print and the impact it can have on your bottom line. Printing is still the most cost effective form of advertising. Let us show you how a few good ideas can make a great first impression and a lasting impression on your customers.
Enjoy your visit!
Locally Owned & Operated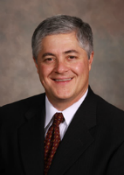 Midtown Printing has been owned for over 20 years by State Representative John Frullo. He has served as the Representative for District 84 since 2010. As an active community member and strong business leader, John leads Midtown Printing with a focus on quality, craft, and overall good business ethics.

Visit John's website for more info.
Hot Off The Press
Posted on 05/23/2016

No two people are the same. Let's talk about how your business can distinguish between different generations to achieve marketing success with your next campaign.

Posted on 05/16/2016

There are the tried and true tactics of marketing, but as the world evolves so do our tactics. That's why you should consider an agile marketing plan.

Posted on 05/09/2016

Before you sink your teeth into the big, wide world of marketing, consider taking a closer look into your own backyard. Today, let's talk about the benefits of local marketing for your business.